Whites are no longer the majority (more than half) racial group in California. In what year will Whites cease to be the majority racial group in the entire U.S.?
How accurate was your prediction?

What most surprised you about the data from the chart?

If demographic trends continue, at some point, American will become (like California is now) minority-majority. In other words, Whites will still be the biggest group (plurality) but they will not longer be more than half of the population (majority). Approximately what year will this happen?

What's the big story this chart tells?

List two causes of the changes reflected in the chart?

List two consequences of the changes reflected in the chart?

How does the information in the chart impact the following linkage institutions: elections, mass media, political parties, interest groups?

Explain whether the changes reflected in the chart is good news or bad news?

In what way are the changes expressed in the chart reflected in your own life?

Jot down one question you have about this chart?

Make a prediction for what this chart will look like in 2080 America (if there is a 2080 America):

My student, Esméralda, said that a direct consequence of the data in the chart was the election of Barack Obama and the election of Donald Trump. Explain how both those things could be true.

How do you think the demographic changes reflected in this chart impacted the 2016 election?

Explain how the projected American racial changes will impact overall American political culture and values?

In the comments section, write about how the changes reflected in the chart are impacting politics in the US today.

In Letter From Birmingham Jail, Dr. Martin Luther King, Jr. defends the use of civil disobedience to fight for civil rights. Based on his letter, explain Dr. King's position on fighting for equal rights today.

Imagine you were a political party leader. Describe one step you would take regarding this data.

Explain how you think the following people would respond to this chart and explain why:
Liberals

Conservatives

Republicans

Democrats

Dr. Martin Luther King

James "Tiny" Madison

Donald Trump

Your grandparents
Visual Extension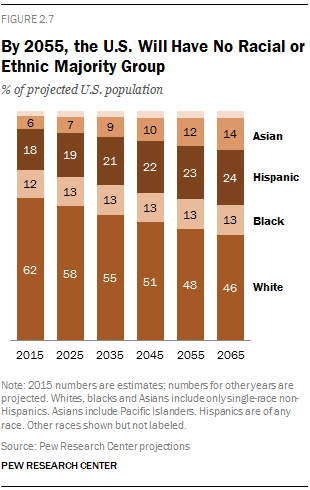 Learning Extension
Check out these 10 charts on the changing face of America.
Learning Extension Extension
Do yourself a favor and dive into the 1619 Project from the NYTimes. And you can find curriculums, guides and activities for students developed by the Pulitzer Center at pulitzercenter.org/1619.
CONVO Extension
Join in dialogue with your class on the topic of race. Here's how CONVO works.
Action Extension
Find out the demographics of your county or city and make a comparison of your local data with the national data. Make a post comparing your hometown to the nation at large on social media with the hashtag #changingamerica